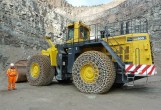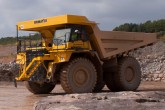 Wilkommen an Chepstow Plant Services
Chepstow Plant Services spezialisiert sich auf die Versorgung von gebrauchten Baumaschinen von hoher Qualität an Märkte in Großbritannien und weltweit. Wir bieten zuverlässige Maschinen zu günstigen Preise an – ohne Qualität und Service zu opfern. Die Firma gilt als ein der leitenden Händler und Lieferanten von schweren Maschinen Europas.

Chepstow Plant Services hat die Fähigkeit, alle Aspekte der Beschaffung von Maschinen, die nötigen Reparierungen, die Verschiffung und Verschiffungsdokumentation zu behandeln.
Nachrichten

Chepstow Plant Services were delighted to be recognised as one of Wales' leading business thinkers as they were confirmed as a Business Thinking Regional Finalist. Chepstow was one of 100s of businesses nationwide that entered the bank's competition to find the best business thinkers in the country in June this year and they now move forward to the next stage.
Not really big enough! The 'Red Noses' available for motor vehicles in this years (2011) campaign for Comic Relief are not quite big enough for the Caterpillar Dumptrucks found in Chepstow Plant Services yard in Newport Docks.
Chepstow Plant Services were awarded HSBC's Business Thinking 2012 award at a ceremony held at the National Museum of Wales, Cardiff on the 22nd March. Hosted by Gavin Esler of BBC2's flagship political programme - Newsnight the ceremony saw CPS competing against a range of highly inspirational businesses.
Neuer Bestand