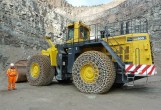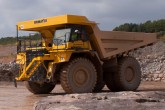 Bienvenue
Chepstow Plant Services se spécialise dans la vente de matériels de construction d'occasion de bonne qualité au Royaume Uni et aux marchés partout dans le monde. Nous vendons des matériels solides aux prix avantageux sans compromettre la qualité supérieure et le service efficace. La société bénéficie d'une bonne réputation d'un des stockistes et fournisseurs majeures de matériels poids lourds en Europe.

Chepstow Plant Services a la capacité de s'occuper de tous les aspects de l'obtention de matériels, toutes réparations nécessaires, et le transport et la documentation associés.
Nouvelles

Chepstow Plant Services were delighted to be recognised as one of Wales' leading business thinkers as they were confirmed as a Business Thinking Regional Finalist. Chepstow was one of 100s of businesses nationwide that entered the bank's competition to find the best business thinkers in the country in June this year and they now move forward to the next stage.
Not really big enough! The 'Red Noses' available for motor vehicles in this years (2011) campaign for Comic Relief are not quite big enough for the Caterpillar Dumptrucks found in Chepstow Plant Services yard in Newport Docks.
Chepstow Plant Services were awarded HSBC's Business Thinking 2012 award at a ceremony held at the National Museum of Wales, Cardiff on the 22nd March. Hosted by Gavin Esler of BBC2's flagship political programme - Newsnight the ceremony saw CPS competing against a range of highly inspirational businesses.
Nouveaux matÉriels